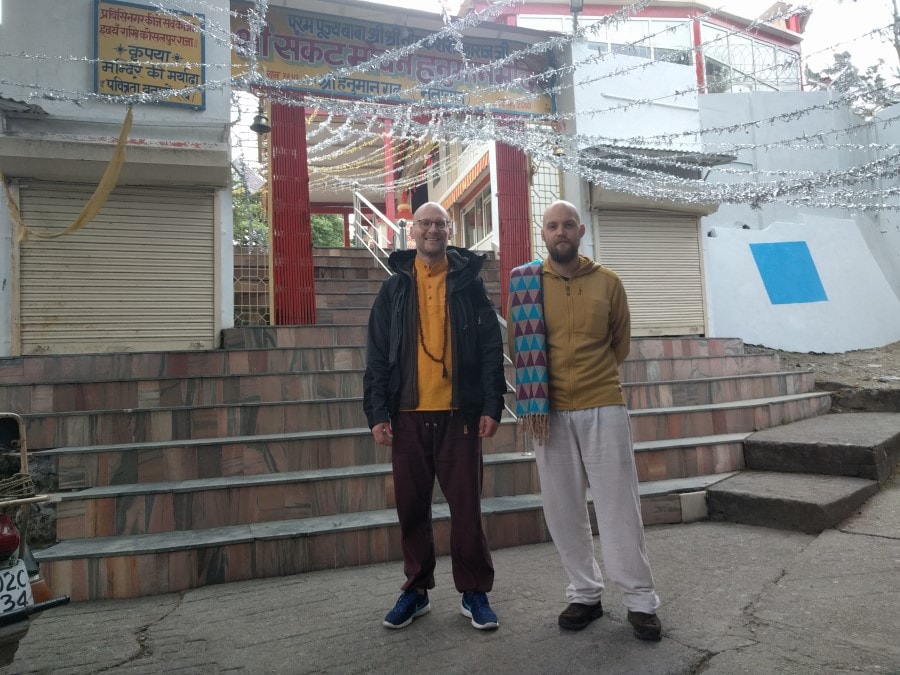 When we planned our trip to India, that is, we who run this site, Tobias and Magnus Ahlberg, we both wanted to visit Kainchi Dham. It is the ashram that is most associated with the Indian guru Neem Karoli Baba, also known as Maharaj-ji. The guru that Richard Alpert, or Ram Dass, made famous for the western world. It was there Ram Dass and other Westerners such as Krishna Das spent a lot of their time when they visited Neem Karoli Baba back in the 60s and 70s, and it was the first location we went to when we arrived at the small city of Nainital up in the Himalayan mountains. Kainchi Dham is just a few miles away from the city and you can read about our visit there in this article: A Trip To India – Part 1 – Kainchi Dham
We have both been drawn to Maharaj-ji for quite some time, especially the unconditional love he showed humanity. He had no big complex teachings but kept it simple. Love people, serve people and remember God. This was his small, but yet great teaching. Often he answered questions with "Sub ek," all is one. You do not need to know much more than that in order to reach God.
Kainchi Dham was one of the biggest reasons we traveled to India in the first place. However, we also wanted to visit some other places in the area that we felt drawn to as well, but the place we will describe now was actually added to our list of visits mostly because it was close to Nainital and we had some time left in our schedule. None of us knew much about the place or felt any special attraction towards it.
Just outside of Nainital is the first temple that Neem Karoli Baba established located, called Hanuman Gadh. We knew there were more temples than Kainchi Dham where Maharaj-ji and his followers used to stay at and felt that this place could be fun to visit when it was quite close to our hotel. We had no idea what it looked like since we had not seen any pictures of it or read much about it.
The temple does not look like much from the outside. You mostly see some walls and an entrance, but inside the temple you are met by an mesmerizing and beautiful environment. The first thing you encounter when you enter is a large majestic statue of Hanuman, the Indian monkey god that Maharaj-ji is closely associated to, a statue that instantly leads you a connection to the divine.
The temple was also much larger than we expected and is located beautifully up in the mountains overlooking the valley. As we walked around, we quickly fell into a quiet harmonious peace. The temple was a place far more beautiful than expected. It was love at first sight. We strolled around while our smiles grew by the minute. It was a place where Maharaj-ji's presence was strong. A place we want to return to again. Hanuman Gadh surpassed all the expectations we had before the visit.
The most beautiful room in the temple is where Maharaj-ji's image stands. A beautifully decorated room with pictures on Maharaj-ji along the walls and a statue of him at the front. The gate in to the room was closed, but one of the temple workers let us in and said that if we liked, we could sing some kirtan. We stepped in, showed our reverence for Maharaj-ji, and then sat down in front of the murti, the statue of Maharaj-ji. We meditated for a while and then sang Krishna Das's prayer to his guru, the beautiful song "Om Namo Gurudev." Time slowed down, love flowed into us, but most of all the feeling of gratefulness. After a while we bowed again for this big man and started our walk back to the hotel.
That same evening when we returned to the hotel we saw a beautiful display of fireworks over at Hanuman Gadh. It turned out they were celebrating Ram Dass's birthday that just happened to meet the day of our visit. Suddenly it became very clear to us how important Ram Dass have been for the temples in the area and how revered he is by the people there. We felt a deep gratitude for Ram Dass for inderectly bringis us to this place. For him showing the way for so many of us. To Maharaj-ji, to God.
We also talk about Hanuman Gadh in Episode 15 of our podcast.