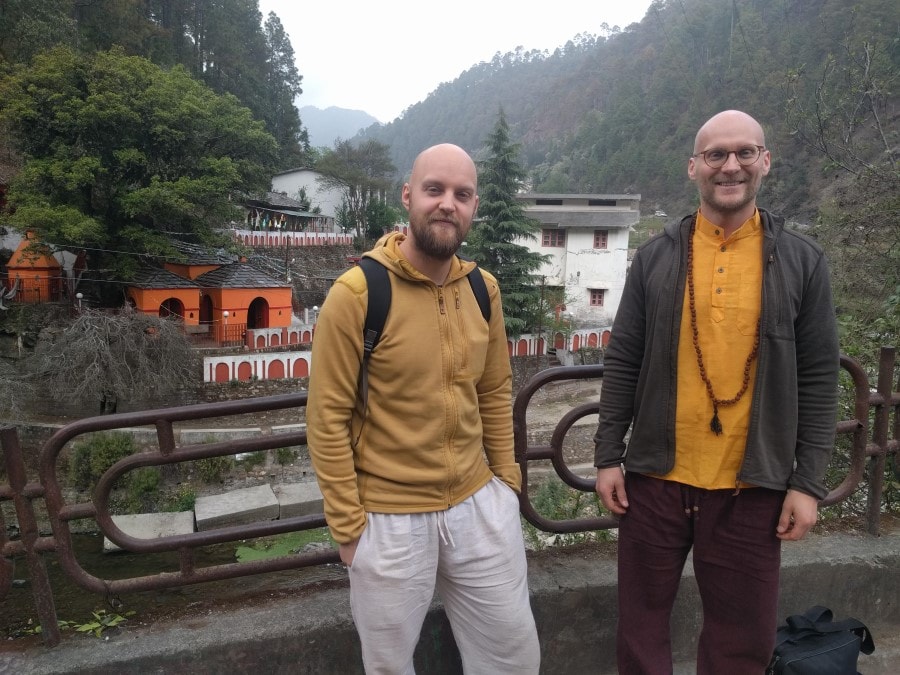 One of the places we wanted to visit when we were in the area around the small city of Nainital up in the Himalayan mountains was the Indian saint Sombari baba's two ashrams in Padampuri and Kakrighat. This area of India has hosted many great saints like Neem Karoli baba, Hairakhan baba, and of which Sombari baba is considered one of the most developed spiritually.
Sombari baba is relatively unknown in both the West and in India. Much because it is close to one hundred years since he lived. Therefore, his ashram in Padampuri is not very well-visited where it is beautifully situated in a valley between the mountains a bit from the city of Nainital. We were the only visitors when we were there and the place is more neglected and less expensive compared to Neem Karoli baba's ashram Kainchi Dham. Nevertheless, it is one of the most beautiful places we have visited and a place we want to visit again. If you want to know more about Sombari baba we have written about him here.
The first thing that struck us when we got there was that it was bigger than we expected. The ashram lies next to a small river and we knew that Sombari baba never allowed anyone to come in without first washing their feet, hands and face in the river. In order to respect this, we did this before we entered the ashram where one of the area's most developed beings spent a great part of his life. Once inside we were met by an incredibly peaceful place. It felt like you could walk around there without a thought of wanting to do anything else, hour after hour after hour. You did not feel the need for anything else. Even though we were the only visitors and we quickly saw all the parts, it was impossible to get bored there. You just wanted to be. Nothing more. What prompted us to leave after some hours was that our taxi driver waited impatiently on us outside.
We could feel that Sombari's presence was still strong here and it was a strange feeling to sit at his dhuni that was still there, his sacred fire that he kept burning the most of the time. In the building above the fireplace there was a portrait made of stone of Sombari baba and this building was built at the place where he used to sit. We meditated for a while in front of this image and let us be immersed into his presence and energy.
In one of the buildings a young man sat and repeated a mantra while another young man swept the pathways. It turned out to be the caretakers of the temple. They gladly talked about Sombari baba in bad English and offered coffee as prasad. Although we had difficulty communicating with speech, we easily talked to each other with the language of the heart. The young men were incredibly hospitable and happy about our visit and the meeting with them came to be one of the greatest memories of the journey. We hope they will be there the next time we come to visit because it is a place we both want to visit again.
The week before we traveled to India we were on a retreat with Sri M in Switzerland. There we met an Englishman who turned out to have visited Sombari baba's ashram in Padampuri seven years earlier. That fact that we encountered someone who has actually been there the week before we left for India was an incredible synchronicity, given that very few westerners have been there or even heard of Sombari baba. The Englishman said that when he was there, a 119-year-old yogi had been there and the Englishman had never encountered a more loving person. We asked the two caretakers if this yogi was still alive and they confirmed that he was now 125 and lived in the ashram during the summer. However, we were there before the summer really started so the yogi now lived at his winter residence in Haldwani. We actually got his address from the temple caretakers but we never had the time to go there and maybe it was not meant to happen. Maybe we'll encounter him the next time we're there if he's still alive. We are happy anyway, because it was Sombari baba's ashram who caught our hearts.
Since there are very few pictures on this beautiful ashram circulating, we are sharing plenty of pictures here and we hope that more people will go to Padampuri and hopefully also donate a small or big sum to the ashram so that it can survive and and perhaps even flourish once more. Perhaps this article can pay back a small part of what Sombari baba and Padampuri gave us.